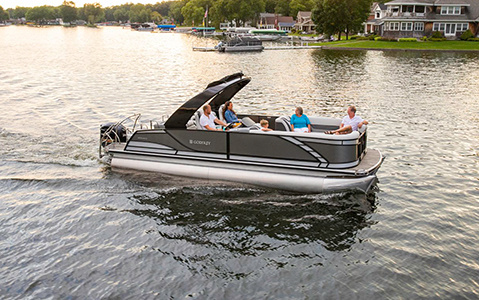 AquaPatio & Sanpan RGB Lighting Manual
Godfrey Model Designator Key
Frequently Asked Questions
Answers to the most frequently asked questions about Godfrey Pontoon Boats.
Can I buy pontoon boat parts and accessories from you?
For Sanpan, XP, AquaPatio, Monaco, Sweetwater, and Sweetwater Xperience parts and accessories, please contact your local dealer with the HIN of your boat. If you are interested in ordering apparel or gifts, visit our apparel site for an extensive selection of options to keep for yourself or give as a gift.
How can I find out what the retail value of my pontoon boat is?
To find the retail value of your boat, please estimate it here.
Where can I obtain an owners manual for my pontoon boat?
To get a copy of the Owners Manual for your boat, click here.
Who do I contact for warranty related issues? Godfrey or my local dealer?
For warranty questions or concerns, please contact your local dealer, who you purchased your Godfrey Pontoon Boat from.