AquaPatio Split Bench Models
AquaPatio 215 SB
22" overall length, Split Bench seating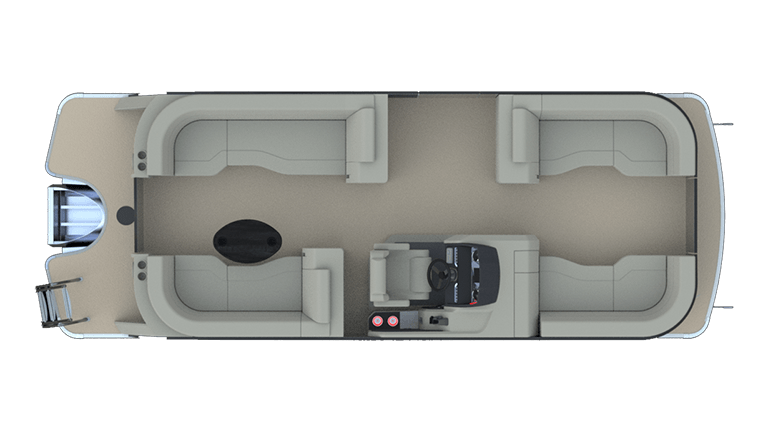 AquaPatio 235 SB
21' 6" overall length, Split Bench seating
AquaPatio 235 SBC
23' 9" overall length, Split Bench with Co-Captains Seating
AquaPatio 255 SBC
25' 10" overall length, Split Bench with Co-Captains Seating
AquaPatio 255 SBH
25' 10" overall length, Split Bench - Handicap Accessible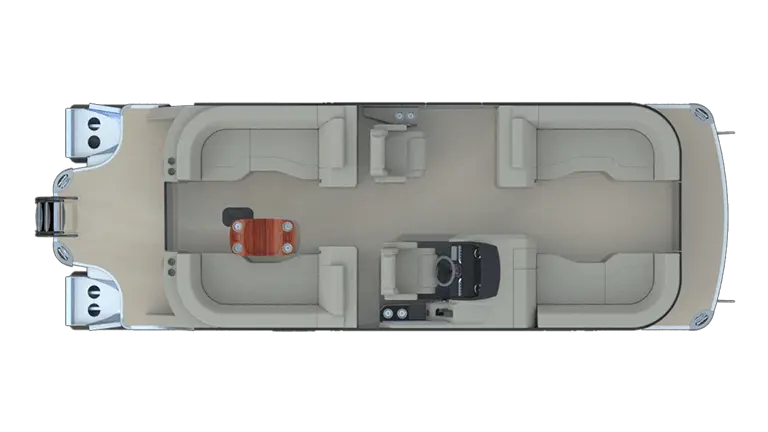 AquaPatio 256 SBC
25' 8" overall length, Split Bench with Co-Captain's seating - Twin Engine
AquaPatio 235 SBW
23' 9" overall length, Split Bench with Windshield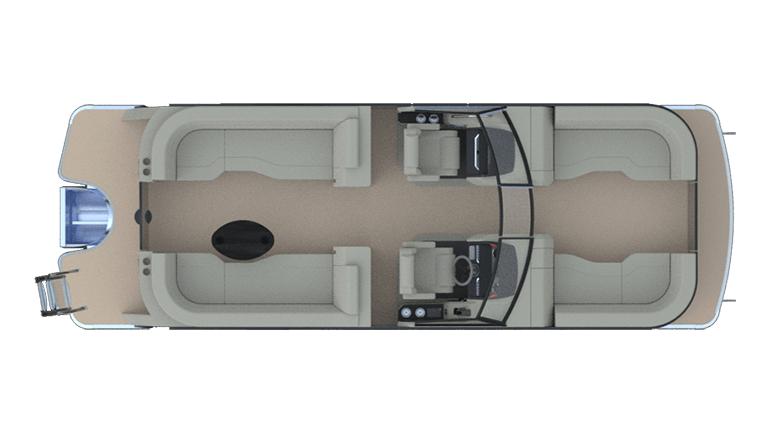 AquaPatio 255 SBW
25' 10" overall length, Split Bench with Windshield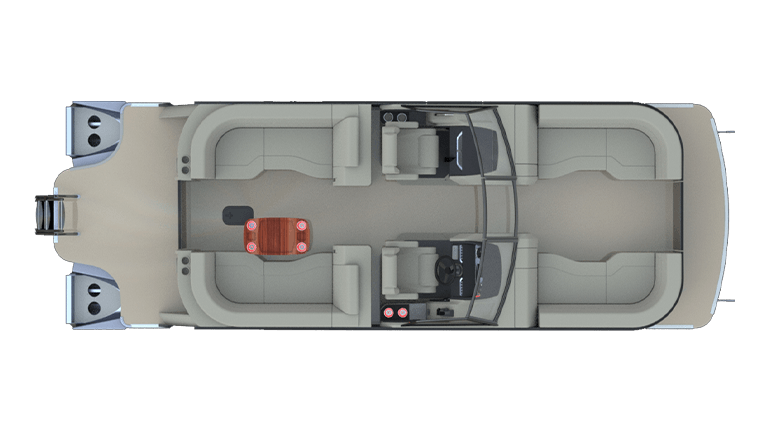 AquaPatio 256 SBW
25' 8" overall length, Split Bench with Windshield - Twin Engine
Overall Length

22'

Passengers

12

Max HP

200
AquaPatio 215 SB
Includes
Open floor-plan with split bench seating
Excellent cruising performance
Conversation friendly stern table seating and ample space for entertaining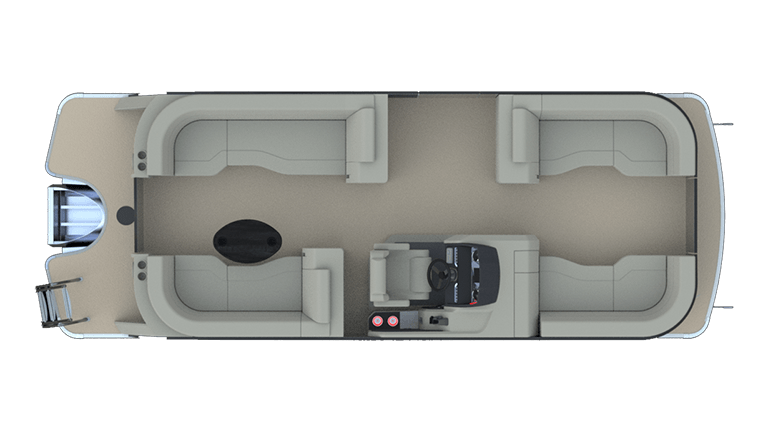 Overall Length

21' 6"

Passengers

16

Max HP

300
AquaPatio 235 SB
Includes
Open floor-plan with split bench seating
Excellent cruising performance
Conversation friendly stern table seating and ample space for entertaining
Overall Length

23' 9"

Passengers

15-16

Max HP

300
AquaPatio 235 SBC
Includes
Open floor-plan with split bench seating
Share the responsibility with the co-captain of your choice
Perfectly sporty with sport arch and sport tower upgrades
Overall Length

25' 10"

Passengers

15-17

Max HP

300-400
AquaPatio 255 SBC
Includes
Open floor-plan with split bench seating
Share the responsibility with the co-captain of your choice
Perfectly sporty with sport arch and sport tower upgrades
Overall Length

25' 10"

Passengers

15

Max HP

300
AquaPatio 255 SBH
Includes
Open floor-plan with split bench seating
Ample space making this boat handicap accessible
Additional midship gate for easy boat access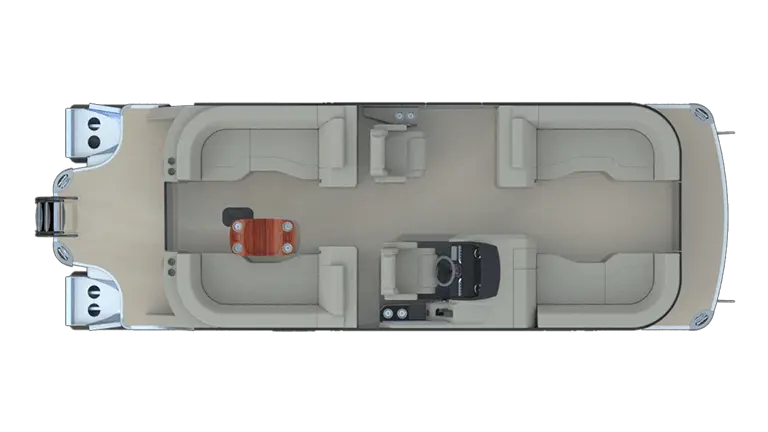 Overall Length

25' 8"

Passengers

13

Max HP

600
AquaPatio 256 SB
Includes
Open floor-plan with split bench seating
Share the responsibility with the co-captain of your choice
Enjoy two times the fun with our dual engine set-up
Overall Length

23' 9"

Passengers

15-16

Max HP

300
AquaPatio 235 SBW
Includes
Relaxed elegance provided with open floorplan split bench seating
Enjoy a smooth ride with standard Triple Tube package
Aerodynamic windshield to keep captain and co-captain dry and comfortable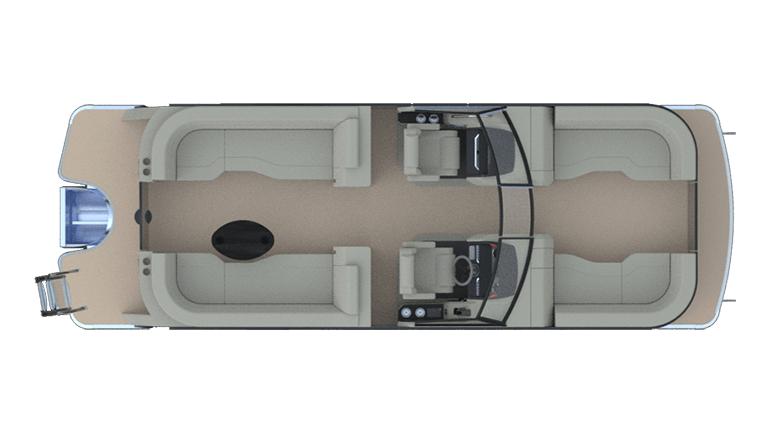 Overall Length

25' 10"

Passengers

15-17

Max HP

400
AquaPatio 255 SBW
Includes
Relaxed elegance provided with open floorplan split bench seating
Enjoy a smooth ride with standard Triple Tube package
Aerodynamic windshield to keep captain and co-captain dry and comfortable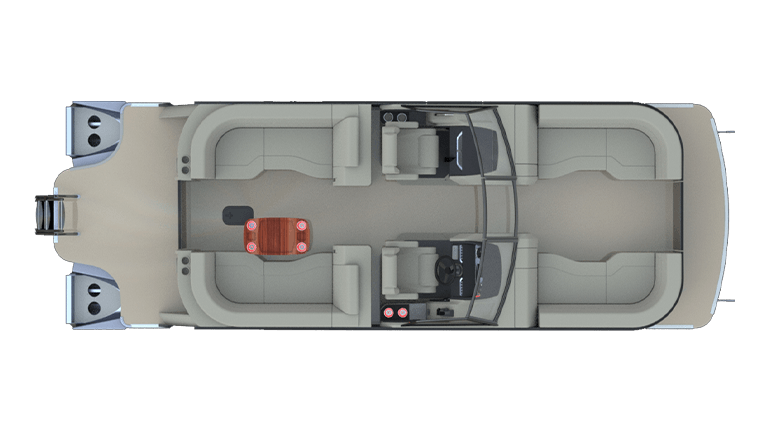 Overall Length

25' 8"

Passengers

13

Max HP

600
AquaPatio 256 SBW TWIN
Includes
Relaxed elegance provided with open floorplan split bench seating
Enjoy a smooth ride with standard Triple Tube package
Aerodynamic windshield to keep captain and co-captain dry and comfortable
---
Slip-on the sunglasses and double-down on the SPF, the available stern lounge bench seating configuration delivers twice the relaxation with deep and lavishly appointed chaise style seating wrapped in your choice of Soft-Touch or Ultra-Soft-Touch rich-textured vinyl.
---
There is only one thing better than taking command of an AquaPatio Split Bench from the comfort of our purpose-built captain's chair: doing it with a friend. Our available co-captain layout features an identical port located chair with 360-degree rotation, height and seat-back control and adjustable armrests.
---
Bring everything you need for a perfect day on the water with friends and family. Abundant integrated storage is found throughout the AquaPatio Split Bench models including underseat, convenient large-door chaise, easy access helm with nearby USB charging port and under-helm with improved obstruction free access.
---
Add convenience and a sport-inspired edge to you AquaPatio Split Bench with your choice of a powered canopy, elegant composite arch or action powered tower. All offer additional luxury and convenience with the controls to raise and lower by a single button at the helm.