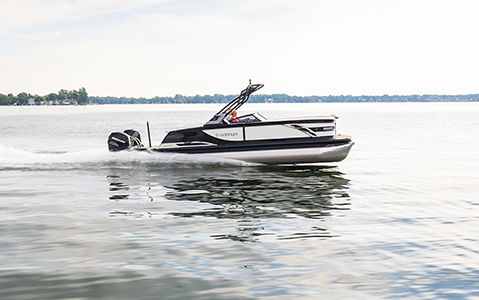 When choosing your next Godfrey Pontoon Boats, you'll want to consider the following: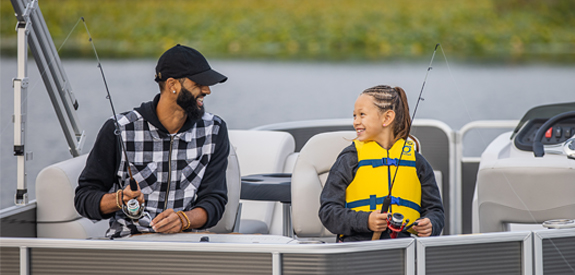 Activities
We have unique layouts and options designed for specific applications including Lounge, Cruise, Entertainment, Fishing and more. Also, consider some of our performance upgrade packages, canvas options and decking features that suit your desired activities and necessary weather protection.



Location
If you're boating on rough water or large bodies of water, you might consider a longer or wider boat. Also, explore our upgraded performance packages.



Saltwater
If cruising in saltwater, your pontoon will need additional protection. Make sure to order the Saltwater package when customizing your Godfrey Pontoon Boats.



Towing
If you have frequent towing needs, or plan to trailer your boat, keep in mind the size of your boat will impact the size of the vehicle and trailer needed to tow it.


Budget
Godfrey Pontoon Boats are customizable and suit various price points and budgets. You can use our custom boat builder to learn more about pricing, or talk with one of our dealers to work through pricing out the right boat. As you're planning your purchase, make sure to also do research on other boat ownership costs.

Engine
Godfrey Pontoon Boats can be paired up with nearly any marine engine brand and some can accommodate dual engine setups. Engines at varying horsepower are also available and should be chosen depending on where you boat. Think through the performance and handling you desire and always discuss your engine selection with a professional. Talk to your dealer for more information and recommendations, based on your boating preferences.
Size & Seating
On average, consider how many passengers, friends and family will be on board. Then think about how you'd like interact with your friends and family on board. This will help you determine both the length and layout of boat you will need.
Designed for the ultimate experience in boating luxury. From the spacious bow lounge seating to the stylish and overall design, this boat is built to impress.

Ultra-luxury pontoon boats featuring cutting-edge design, high-end comfort, and incredible entertainment options.

The perfect blend of style and comfort. Built with the most desired features — inspired by visionary design.
View Full Godfrey Pontoon Lineup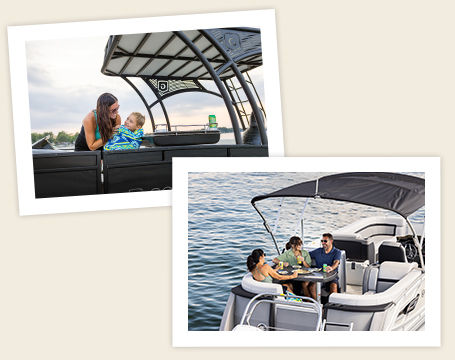 We build and customize pontoons for cruising, fishing, tubing, skiing and fun family outings. When you're just getting started, think through your favorite activities and how you want to be able to move and interact with others on your boat. You might want extra running lights for that late-night cruise. Or add captain's chairs to make fishing easier. Or a table to set your food and drinks on when cruising over lunch. No matter your situation, you deserve a boat that's fine-tuned to fuel endless hours of fun on the water.
Tips for First-Time Boat Owners
If you've never owned a boat, you need to plan for insurance, maintenance and local boating laws and regulations. Here are some tips for owning your first boat:
Research insurance, licensing, slip and storage fees
Make a list of

seasonal maintenance

Buy your safety gear: life jackets, dock lines, fenders & fire extinguisher

Learn to trailer your boat
Practice on-the-water skills like handling, docking & launching
Check your state laws and get

licensed

Take a local boating course
Have fun!
It's best to learn safe and responsible boating habits before you get on the water. You'll need to be ready for unexpected situations.
Here are some boating safety basics: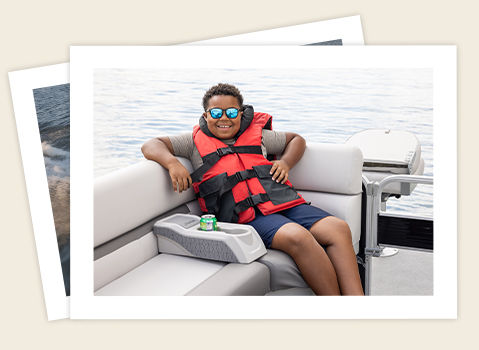 Pontoons handle differently than other boats – get familiar with the safe handling of your specific vessel.
Respect other boaters and residences by following rules in no-wake zones, keeping noise to a minimum and only launching your boat at dedicated boat ramps.
You're sharing the water with wildlife – practice caution in shallow areas, near shorelines and always stay away from protected habitats.
Most states require you carry a Coast Guard-approved life vest for every passenger – be sure to check your gear before you head out on the water.
Follow local fishing regulations, seasons and license laws.
Do not put yourself and others at risk by mixing alcohol, drugs and boating.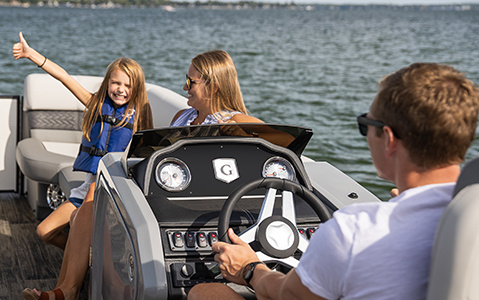 Sign Up for Godfrey Emails
Stay up-to-date on all things Godfrey by signing up for our email list.