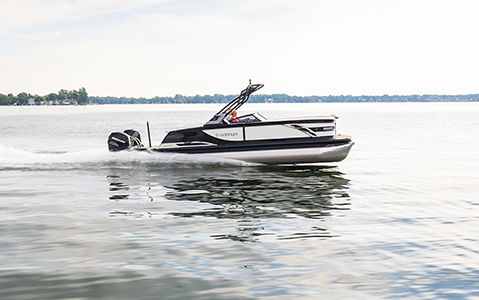 When choosing your next Godfrey Pontoon Boats, you'll want to consider the following: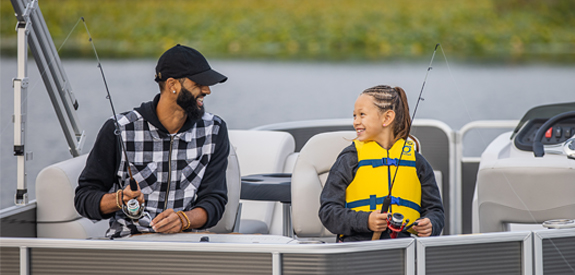 Activités
Nous avons des configurations et des options uniques conçues pour des applications spécifiques, y compris Lounge, Cruise, Entertainment, Fishing. Considérez également certains de nos ensembles d'amélioration des performances, options de toile et caractéristiques de terrasse qui conviennent à vos activités souhaitées et à la protection nécessaire contre les intempéries.



Emplacement
Si vous naviguez sur des eaux agitées ou de grands plans d'eau, vous pouvez envisager un bateau plus long ou plus large. Découvrez également nos ensembles haute performance améliorés.



Eau salée
Si vous naviguez en eau salée, votre ponton aura besoin d'une protection supplémentaire. N'oubliez pas de commander l'ensemble Eau salée lorsque vous personnalisez votre Pontoon Boats Godfrey .



Remorquage
Si vous avez fréquemment besoin de remorquer votre bateau, ou si vous prévoyez de le remorquer, gardez à l'esprit que la taille de votre bateau aura une incidence sur la taille du véhicule et de la remorque nécessaires pour le remorquer.


Budget
Les pontons Godfrey Pontoon Boats sont personnalisables et conviennent à différents niveaux de prix et budgets. Vous pouvez faire appel à notre constructeur de bateaux sur mesure pour en savoir plus sur la tarification, ou vous adresser à l'un de nos concessionnaires pour déterminer le prix du bateau qui vous convient. Lorsque vous planifiez votre achat, assurez-vous de faire également des recherches sur les autres coûts liés à la possession d'un bateau.

Moteur
Les pontons Godfrey Pontoon Boats peuvent être associés à presque toutes les marques de moteurs marins et certains peuvent être équipés de deux moteurs. Des moteurs d'une puissance variable sont également disponibles et doivent être choisis en fonction de l'endroit où vous naviguez. Réfléchissez aux performances et à la maniabilité que vous souhaitez et discutez toujours de votre choix de moteur avec un professionnel. Adressez-vous à votre concessionnaire pour obtenir plus d'informations et des recommandations, en fonction de vos préférences en matière de navigation.
Taille et sièges
En moyenne, il faut tenir compte du nombre de passagers, d'amis et de membres de la famille qui seront à bord. Ensuite, pensez à la façon dont vous aimeriez interagir avec vos amis et les membres de votre famille à bord. Cela vous aidera à déterminer la longueur et la configuration du bateau dont vous aurez besoin.
Designed for the ultimate experience in boating luxury. From the spacious bow lounge seating to the stylish and overall design, this boat is built to impress.

Ultra-luxury pontoon boats featuring cutting-edge design, high-end comfort, and incredible entertainment options.

The perfect blend of style and comfort. Built with the most desired features — inspired by visionary design.
Voir la gamme complète de pontons Godfrey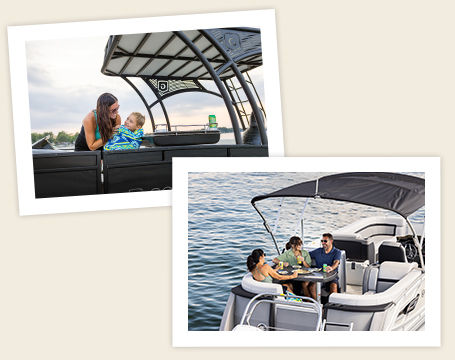 Activités sur les pontons
Nous construisons et personnalisons des pontons pour la plaisance, la pêche, le pneumatique, le ski et les sorties en famille. Lorsque vous commencez, réfléchissez à vos activités préférées et à la façon dont vous voulez pouvoir vous déplacer et interagir avec les autres sur votre bateau. Vous aurez peut-être besoin de davantage de lumières pour cette croisière nocturne. Ou ajoutez des sièges pilote pour simplifier la pêche. Ou encore une table pour poser votre nourriture et vos boissons lorsque vous naviguez le midi. Quelle que soit votre situation, vous méritez un bateau bien calibré pour vous offrir des heures de plaisir sur l'eau.
Conseils pour les nouveaux propriétaires de bateaux
Si vous n'avez jamais été propriétaire d'un bateau, vous devez prévoir les assurances, l'entretien et les lois et règlements locaux en matière de navigation de plaisance. Voici quelques conseils pour posséder votre premier bateau :
Recherchez les frais d'assurance, octroi de permis, de rampe d'accès à l'eau et d'entreposage.
Faites une liste d'

entretien saisonnier.

Achetez de l'équipement de sécurité : gilets de sauvetage, lignes de quai, garde-boue et extincteur.

Apprenez à remorquer votre bateau.
Pratiquez des compétences sur l'eau comme la maniabilité, l'amarrage et la mise à l'eau.
Vérifiez les lois de votre État et obtenez un

permis

.
Suivez un cours de navigation de plaisance local.
Amusez-vous!
Il est préférable d'apprendre des habitudes de navigation sûres et responsables avant de naviguer. Vous devez être prêt pour toute situation inattendue.
Voici quelques notions de base sur la sécurité nautique :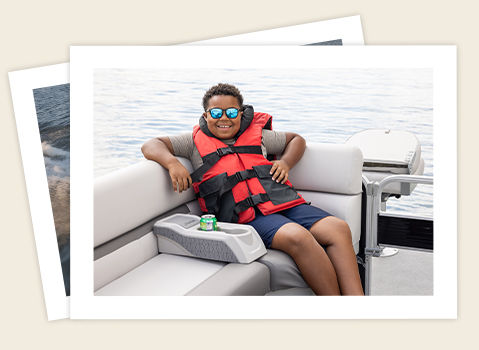 Les pontons se comportent différemment des autres bateaux – familiarisez-vous avec la maniabilité sécuritaire de votre navire en particulier.
Respectez les autres plaisanciers et les résidences en suivant les règles dans les zones interdites, en réduisant le bruit au minimum et en ne mettant votre bateau à l'eau qu'aux rampes de mise à l'eau prévues à cet effet.
Vous partagez l'eau avec la faune, faites preuve de prudence dans les zones peu profondes, près des rivages et restez toujours à l'écart des habitats protégés.
Most states require you carry a Coast Guard approved life vest for every passenger – be sure to check your gear before you head out on the water.
Respectez la réglementation locale en matière de pêche, les saisons et les lois sur les permis.
Ne vous mettez pas en danger et ne mettez pas les autres en danger en mélangeant alcool, drogues et navigation de plaisance.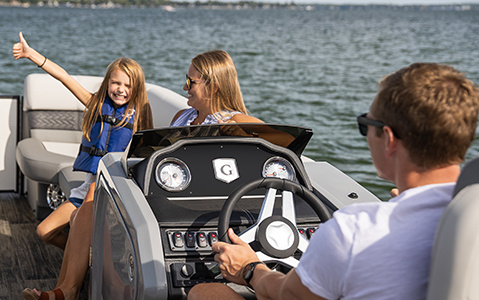 Inscrivez-vous aux courriels de Godfrey.
Restez informé sur tout ce qui concerne Godfrey en vous inscrivant à notre liste de diffusion par courriel.